Conti.eContact Electric Cars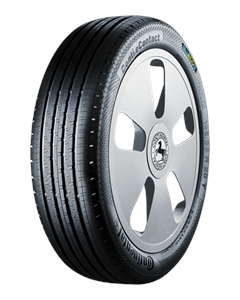 205/55R16 CO EC 91Q
You drive more miles per volt, we enjoy less emissions per mile.
For electric vehicles in compact class.
The first e-car tyre
Highlights:
Minimal rolling resistance for higher mileage.
Unrivalled braking performance and low noise emissions.
Aerodynamic sidewall design with golf ball structure.
The Renault Twizzy and the new Volkswagen eGolf come equipped with Conti.eContact from the factory.
Engineered in Germany, Continental develops award-winning premium tyres with optimum braking performance and safety.
Reduced rolling resistance for highest mileage
The Conti.eContact features a completely new design which offers optimized rolling resistance and reduced fuel consumption.
Unrivalled braking performance and low noise emissions
Not only does the tyre's construction reduce noise emissions, but the braking distance in the wet is shortened also.
Aerodynamic sidewall design
The sidewall's aerodynamically optimized design reduces fuel consumption.
Original Equipment
Fitted as original equipment on: Renault Twizzy, Volkswagen eGolf
How we compare...